Price: € 300.00

PRICE PER WEEK
Our padel summer camp in Valencia, Spain, offers an exciting opportunity for youngsters aged 5 to 12 to enhance their tennis skills while cultivating their love for the sport. Our camp is located near the beautiful Malvarrosa beach and provides a delightful and enriching environment. Participants will receive expert coaching from our dedicated instructors, focusing on improving their technique, footwork, and game strategy.
Through fun activities, friendly competitions, and interactive lessons, campers will develop their tennis abilities and foster a lifelong passion for the game. Join us for an unforgettable summer experience filled with laughter, learning, and unforgettable memories.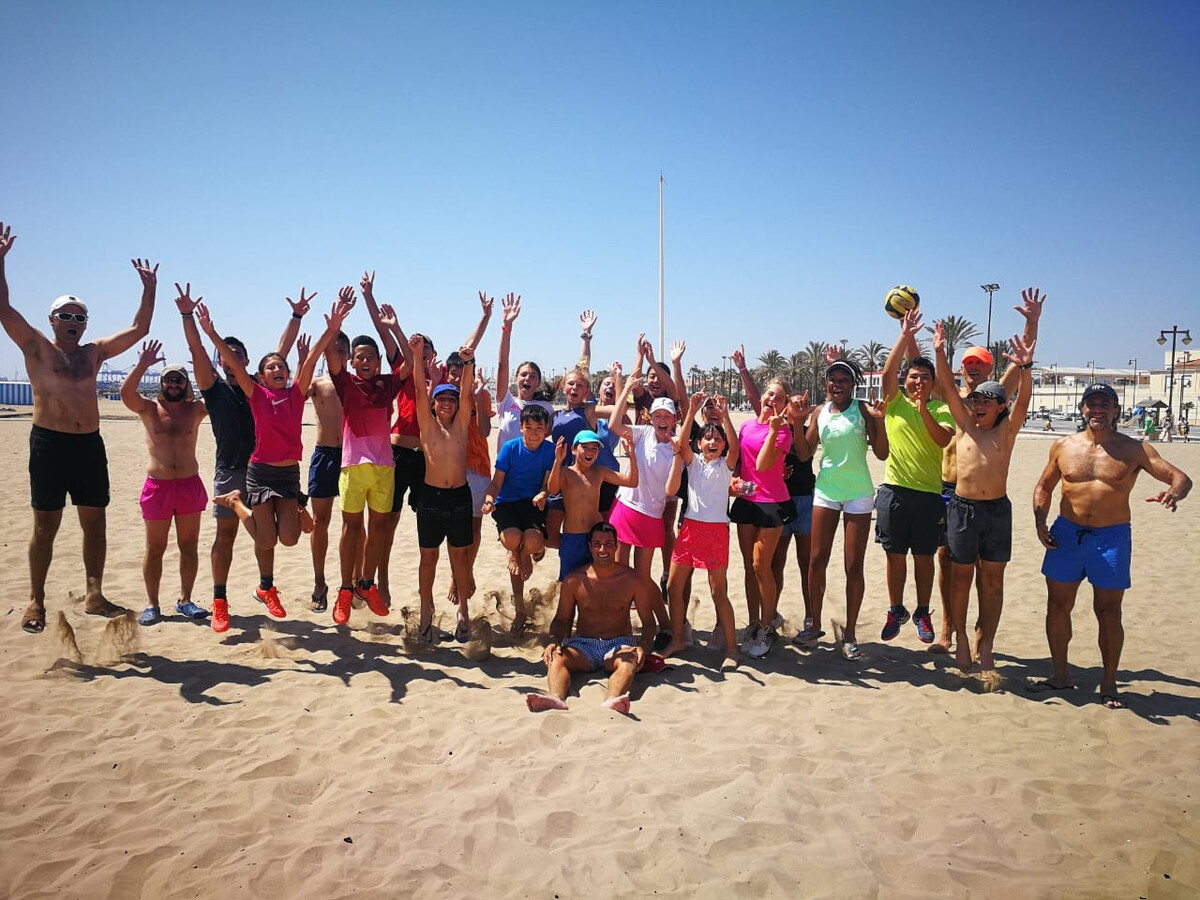 8:45 Padel

Yes, we start early to beat the summer heat. After a brief warm-up, it's time to hit the courts! Children of all levels are equally involved, and we construct different groups based on age and ability so that each child receives a personalized approach.
10:00 Rest. Second breakfast (please provide your child a lunch box and water bottle).
10:30 The games begin.

Every week is distinct from the last.
Our team develops unique activities to both entertain and educate youngsters! We paint, make molds, play chess and Monopoly, read, act, practice English, go to the beach, and play poolside water activities. We make the finest childhood experiences!
13:00 It's time to go:)
*Lodging and meals are not included in the price.
Summer camp is a fun and intense experience for young padel players. Our summer program offers an unforgettable experience that combines intensive padel instruction, physical conditioning, and fun-filled activities.
Participants in our summer program will be guided by trained padel teachers who will help them improve and strengthen their padel skills. Individual instruction will be provided to players according to their abilities and goals, ranging from fundamentals to advanced techniques. Fitness conditioning sessions are also included in our program to help athletes improve their physical performance on the court by enhancing their strength, speed, and agility.
Our summer camp offers a range of recreational activities, including team-building games, swimming, and other outdoor excursions, assuring a well-balanced blend of sports and leisure. This allows campers to form long-lasting friendships, learn how to collaborate, and have unforgettable experiences.
Our summer program aims to create a pleasant and friendly environment that encourages player growth and fosters a love of padel. It accepts players of all skill levels, from novice to expert, and provides a safe and supervised environment for young athletes to learn and improve their game.
Sports camps are an excellent way to keep your child fit, active, and healthy over the summer months by providing them with a fun and stimulating atmosphere to participate in one of the most thrilling sports in the world.
Padel is a fantastic activity for children since it allows them to make new friends, learn to be independent and responsible, and build social skills and collaboration, all while having fun. And most importantly, they avoid technology in favor of a more tactile experience!
We offer opportunities for kids of all ability levels to develop their game while having fun as a team. For novices, we provide fundamental striking and strategy coaching; for more advanced players, we provide an opportunity to compete against other competent competitors on a solo or team basis.
This summer, your child will have fun, get in shape, learn new skills, and meet new friends!
Our team is dedicated to ensuring that every day for a kid is filled with friendships, care, inspiration, and fun! As tennis has become their passion, many young players who practice with us during the school year join us for summer camp.
"For kids of all levels. Tennis and swimming pool, fitness and excursions in nature. It is a good choice for everyone".


Luis Criollo. Coach.
DON'T FORGET THAT VALENCIA IS A PARADISE BOTH FOR children and their parents!!!
Bioparc and Oceanografic, sandy beach and Turia park, history and modern architecture, tapas and horchata!
You may also be interested in
if you have any questions we will always be happy to help.


The only machine in the world to train pronation in the serve.
Tennis and Padel without border
Find your best way to practice tennis and padel
Online tennis program for pro tennis players.
Official US Open surface. Construction and rehabilitation of tennis courts.