Our tennis summer camp is near the Malvarrosa beach in Valencia (Spain). It offers a fun and meaningful environment for children aged 5–12 to work on their tennis skills while they develop their love of the sport.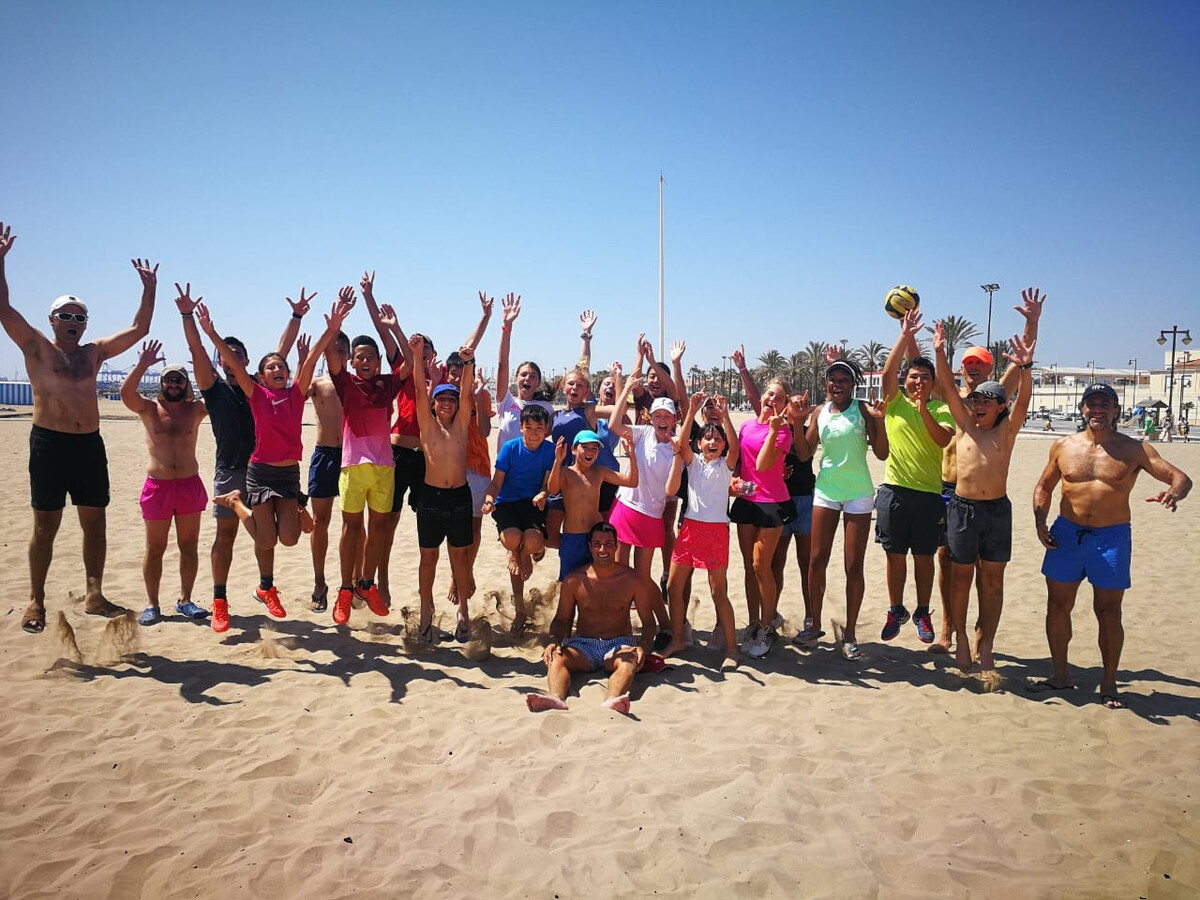 9:00 Tennis
Yes, we start pretty early to avoid the summer heat. Short warm-up and to the courts! Children of all levels are equally involved, and we form various groups depending on age and level, so every kid gets a personal approach.
10:00 Rest
Second breakfast (we kindly ask parents to prepare a lunch box and a bottle of water).
10:30 All the fun begins
Every week is different from the last.
Our team creates special programs to entertain and educate children! We paint, mold, play chess and Monopoly, read, act, practice English, go to the beach, and play water games in the pool. We create the best memories from childhood!
13:00 Time to go home :)
*Accommodation and meals are not included in the price
Summer camp is an exciting and intensive experience for young players who love tennis. Our summer program provides an extraordinary journey combining rigorous tennis training, physical conditioning, and fun-filled activities.
Participants in our summer program will receive expert guidance from qualified tennis teachers who will help them improve and enhance their tennis abilities. Players will receive individual tuition for their skills and aspirations, from foundations to advanced techniques. Our camp also includes fitness conditioning workouts to assist athletes in improving their physical performance on the court by increasing their strength, speed, and agility.
In addition to tennis instruction, our summer camp provides a variety of recreational activities such as team-building games, swimming, and other outdoor excursions, ensuring a well-balanced combination of sports and relaxation. This helps campers forge long-lasting friendships, develop collaboration skills, and have memorable experiences.
Our summer program is aimed to provide a pleasant and supportive atmosphere that promotes player development and builds a love of tennis. It welcomes players of all skill levels, from beginners to experienced, and offers a secure and supervised environment for young athletes to develop and enhance their game.
Sports camp is an ideal way to ensure your child stays fit, active, and healthy during the summer months by offering them a fun and motivating environment to play one of the most exciting sports in the world.

Tennis is an excellent sport for children, as while having fun, they make new friends, learn to be independent and responsible, and simultaneously develop social skills and teamwork. And so important, they stay away from gadgets and enjoy the tangible experience!
We provide opportunities for children of all skill levels to improve their game while having fun playing together as a team. For beginners, we offer instructions on basic strikes and strategies; for more advanced players, we provide an opportunity to showcase their skills against other equally skilled competitors on an individual or team basis.
We guarantee your child will have fun, get in tip-top shape, learn new skills, and make friends this summer!
Our team is committed to making every day for a child full of friendships, care, inspiration, and fun! Many of our young players, who train with us throughout the school year, join us for summer camp as tennis has become their passion.
"For kids of all levels. Tennis and swimming pool, fitness and excursions in nature. It is a good choice for everyone".


Luis Criollo. Coach.
DON'T FORGET THAT VALENCIA IS A PARADISE BOTH FOR children and their parents!!!
Bioparc and Oceanografic, sandy beach and Turia park, history and modern architecture, tapas and horchata!
You may also be interested in
if you have any questions we will always be happy to help.


The only machine in the world to train pronation in the serve.
Tennis and Padel without border
Find your best way to practice tennis and padel
Online tennis program for pro tennis players.
Official US Open surface. Construction and rehabilitation of tennis courts.