We combine vacations with sports and leisure in Spain.

Tennis training and a lot of entertainment. Recommended for beginners.
Training before lunch, and after a busy program. Excursions around the city, Bioparc, Oceanografic, rest on the sea. Various activities related to the sea such as sailing, fishing, diving.
Accommodation, tickets and maintenance does not enter the price of the program.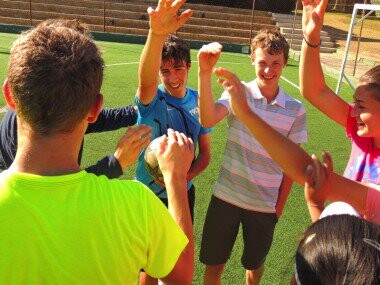 Come join us for the best experience in summer at our Summer Camp.
You will enjoy tennis training, physical training, multi-sport, pool, beach, outdoors… It's a great way to spend time collating numerous leisure activities with tennis. It is a valid choice for children who already have notions of tennis, and those who are at a good level in this sport. In many cases our SUMMER CAMP is the first contact with tennis, the moment when the spark that takes the player to compete and to engage in tennis throughout his life goes on.
THERE IS NO AGE LIMIT OR LEVEL.
Coaches who are responsible for the campus are experts in working with children and organizing such events.
Children are under the supervision of our supervisors throughout the day. All have experience in dealing with children, and they are giving classes throughout the year.
Many children who attend the campus are students attending classes tennis schools regularly and have already gained good level of play. That's why we devote special attention to beginners and well enjoy this experience of initiation in tennis.
THE PROGRAM:
9:15 to 9:30 – Warm-up.
9:30 to 11:30 – Tennis.
11:30 to 12:00 – Rest. Fruits.
12:00 to 13:30 – Fitness.
13:30 to 14:30 – Rest and Lunch.
14:30 to 18:00 Multisport. Revision studies. English classes. Beach. Various activities.
For all ages and all levels. Tennis and swimming pool, fitness and excursions in nature. It is a good choice for everyone.
Rafa Traver. Coach.

Do you need more information?
leave your contact and we will get in touch with you soon