A tennis check-up is a one-week program, that includes a series of tests along with training sessions:

VIDEO-ANALYSIS BIOMECHANICS
PHYSICAL PREPARATION
FRIENDLY MATCHES
PHYSIOTHERAPIST
TEST LATERALITY
BLOOD TEST
TEST VO2MAX. ENDURANCE ТEST
CHIROPODIST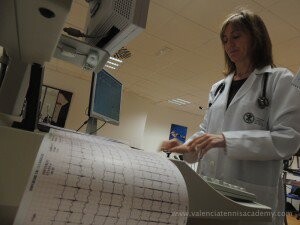 Tennis check-up program is our bestseller
as it's a fast and sufficient way to evaluate the physical condition of the player.
The main fear of any parent, whose kid steps into the professional sports path, is that excessive physical load may have a negative effect on health. And ocasionally these fears are justified.
From our part, we advise all our players, before determining practice plan, pass Tennis check-up program, which reveals all the pitfalls and helps to avoid bigger problems later.
We turn to science to get an accurate report, which we use in designing the professional future of the player.
What we get:
Video-analysis Biomechanics
Analysis of movements according to biomechanics and physics vectors.
Included
Physical Preparation
Informs us of a player's physical condition and helps us to improve it.
Included
Friendly matches
Analyzes players' ability in competition. Psychological analysis by our coaches.
Included
Physiotherapist
Physiotherapist report. Status muscular apparatus. Typical control disorders related to tennis practice and common changes in maturity.
Included
Testlaterality
It is known that the human brain consists of two hemispheres. Each has a function. Laterality test determines which of the two hemispheres of the brain is primary and which secondary. These data allow us to develop an optimum pattern for each player, in addition to explaining aspects of his personality and defining the ability to perform movements based on their technique. It is important to know what the hemisphere director and thus know how personalized be addressed stressful situations in a tennis match racing.
Included
Blood test
Official laboratory.
Helps us to know our player's current conditions. It's essential to have controlled levels of iron, hemoglobin, vitamins, etc. Throughout the pre-season, broad-spectrum analytics helps us adjust to detail the program of physical loads and a Test VO2 Max Valencia Tennis Academy customize feeding patterns and accessories.
Included
Test VO2Max. Endurance Test.
It is the most complex test and provides us with more data. How the heart works, the operation of the respiratory system, and other physiological parameters in general. Our athlete must reach his theoretical maximum load under constant surveillance sports doctor. The anaerobic threshold and the maximum oxygen consumption is determined by stress, like the speed of recovery. With the results of this test, we plan a very precise work program on the resistance.
Included
Chiropody test
How many times are set at the role of the feet in tennis? A player can have very good technique, but if he moves wrong he will need special exercises. Work movement technique, biomechanics of the race, etc. Many of the players are at maturity level and podiatrist services special templates are made to correct the typical anomalies that appear in this age group and thus ensure better development.
Included

We invite you to set up your own program plan «Tennis Check-up» and choose the tests that best fit your needs.
Do you need more information?
leave your contact and we will get in touch with you soon