Fitness test
It allows us to evaluate determined parameters of the athlete, such as VO2 max and CO2 levels. Thanks to this complete medical test, it is possible to find out the physical limits of tennis players to better program training and physical limits of resistance and speed. The fitness test gives us the ultimate evaluation for better performance.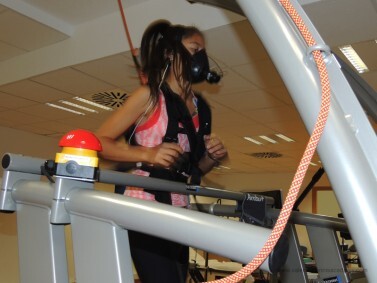 Ergometry is the study of physical work activity through medical tests that is practiced by many athletes of high competition to find out the physiological parameters that allow them to better their performance.
Simply put, it's a test to determine the physical state of the athlete to better plan their training. It consists of an electrocardiogram and gas analysis, which includes the VO2 analysis, or the analysis which determines the maximum volume of oxygen an athlete can use. This data is important in planning the training loads according to resistance and speed. The test also includes an analysis of the heart, the lungs, and the body's general response to maximum output. Additionally, the test determines the athlete's anaerobic threshold, which is fundamental in obtaining the maximum performance during our training.
Without a doubt, thanks to advanced medical technology, we are capable of finding out more about our bodies. This allows us not only to better obtain results in the future, but also to foresee any problems that may develop.
if you have any questions we will always be happy to help.


The only machine in the world to train pronation in the serve.
Tennis and Padel without border
Find your best way to practice tennis and padel
Online tennis program for pro tennis players.
Official US Open surface. Construction and rehabilitation of tennis courts.